Executive Director
The Executive Director is appointed by the five-member California State Board of Equalization (BOE). The Executive Director is responsible for implementing policies adopted by the Board and the day-to-day operations of the agency. Through a conferring power resolution, the Executive Director has the full authority to exercise, perform and discharge any and all duties, powers and functions currently vested in or imposed upon the Board.
Executive Director Yvette M. Stowers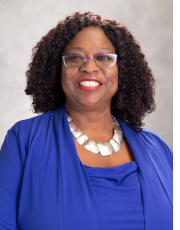 Yvette M. Stowers was appointed as the Executive Director by the Board on March 30, 2022.
Executive Director Stowers has extensive experience in the field of state taxation. Prior to her appointment as Executive Director, she served as Deputy State Controller for Taxation. As Deputy State Controller for Taxation, she represented the Controller on the BOE and the Franchise Tax Board (FTB). She also served as a Tax Consultant Expert II at the BOE. Her career in taxation began when she worked for the FTB as an auditor, program specialist, and audit manager.
Executive Director Stowers also has private sector experience in taxation as she worked as a senior tax manager for a public accounting firm. Ms. Stowers holds a B.S. degree in accounting from San Jose State University and a Master's degree in taxation from Golden Gate University.
BOE Advisory Council
The BOE Advisory Council (Council) is to provide the BOE Executive Director with a diversity of perspectives on matters relating to the exploration and development of possible approaches and best practices to the many complex tax issues which confront California's citizens, businesses, and policy makers.
The Council's primary objectives are to improve communication between the BOE and its stakeholders; advise the Executive Director on the subject of tax administration policy and programs; capitalize on opportunities to provide insight and collaboration; and make recommendations from a non-BOE perspective. The Council meets twice a year.
Current BOE Advisory Council Member Organizations (as of March 2022)