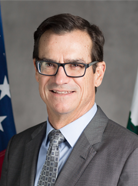 Dave Titus is Chief Deputy to Member Gaines and is responsible for ensuring constituents receive the highest level of service and assistance from the Board of Equalization. He has more than 30 years of experience in government and politics.
Day to day, Dave oversees staff in both the northern and southern California offices and advises Member Gaines on Board policy and processes, general tax administration, tax appeals, tax policy changes, county assessor issues, personnel matters, legislative measures, media relations, educational and outreach opportunities, and constituent inquiries.
Dave began his political career at the California State Legislature in 1984 as a research assistant in the areas of legislation and constituent services. After six years, he moved to the private sector where he worked as a lobbyist and then Director of Government Affairs for the California Trucking Association. In 1997, he returned to public service as Chief of Staff to Rico Oller in both the California State Assembly and Senate. In 2004, he was appointed as Deputy Director of Legislation at CALFIRE by Governor Arnold Schwarzenegger before returning to the Capitol in 2010 as Chief of Staff to three legislators including Assemblyman Chris Norby, Assemblywoman Beth Gaines, and Senator Ted Gaines.
Dave is a graduate of California State University, Fullerton where he earned a Bachelor of Arts in Political Science. Outside the office, he is an avid skier and enjoys spending time with his wife and four children.