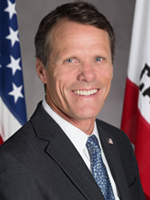 About
Elected in November 2018, Ted Gaines represents the Board of Equalization's First District. He is a leading taxpayer advocate and is committed to providing trustworthy and transparent representation for the nearly ten million constituents in 30 counties of northern and eastern California.
Prior to his election to the Board, Ted served 12 years in the State Legislature where he was a tireless voice for California's taxpayers, ratepayers, businesses, and families. He also fought to protect citizens' privacy and led major efforts to bring thousands of new jobs to the state, as well as supporting critical legislation to strengthen and expand California's infrastructure.
Ted began his public service career in local government as a member of the City of Roseville's Planning Commission from 1997 to 1999. In 2000, he was elected to the Placer County Board of Supervisors and re-elected in 2004.
Ted is a devoted public servant who is dedicated to delivering excellent service to constituents and taxpayers as well as providing helpful information and outreach opportunities.
In addition to his life in public service, Ted is a successful small business owner, having owned Gaines Insurance for more than 30 years. He has been married to his beautiful wife Beth since 1985 and together they reside in El Dorado County and are blessed with six children and three grandchildren.